Vintage Trouble Live in Zürich
Zürich, 01.12.2015.
The Swiss are well know for their precision in meetings and mechanics ( watches ! ). This goes also for the timing of events.Tonight 19.00H doors open – 20.00H band on stage – 22.00H band of stage.By the opening of the doors only a few people….so I was thinking that this might be a private concert…But of course I was wrong…at 19.50H…the beautiful venue ( an old theatre with restaurant ) was packed…
Vintage Trouble…yeah..know this band for about 2 years now..great first album The Bomb Shelter Sessions…recently trending topic in the Netherlands…new album 1 Hopeful Road getting a lot of the attention from Radio/TV…
Always wanted to catch them Live…missed them twice…but tonight it was going to happen…
When you have seen their performance at the David Letterman show …you know what to expect…And it was more than that…
First of all their styling of their clothes is very fashionable…the singer Ty Taylor wears a 3 piece costume with Tie and Pochette…and during the concert he makes sure that the pochette stays in the same place …although his dancing and jumping around ..
The other guys look sharp as well…a bit country&western look with hats and all…The sound of the music is Rock and Soul with dirty guitarwork, slammering drums and pomping bass…the voice of Tye reminds you of James Browne…as well as his moving around does..
OMG…what a showman …what an energy and what a sound…The guy knows how to interact with his audience and gets the whole place dancing and singing along.His moves are very exciting, and he does crowdsurfing too.The songs of Vintage Trouble are Live a lot better than on the record….they rock and they roll….nice slow blues songs as well..
Best song of the evening: Blues send me down….After 1h20min it was all finished with the audience on their knees of excitement.Wow what a performance and what a great musical experience!
These guys have a great future ahead of them..catch them while you still can because they are going to be huge!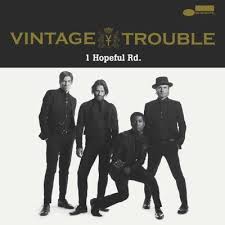 Date

December 15, 2015

Tags

Concert