Joe Bonamassa – Blues of Desperation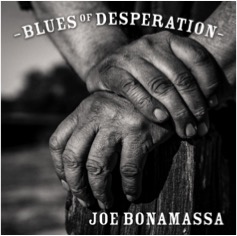 Joe Bonamassa is one of the most productive blues guitarists i know. His new album, Blues of Desperation, is yet another masterpiece in bluesrock. Opener "This Train", immediately blows you off your feet, just as we are used to when listening to Joe. Steady rockin' guitarplaying and well-sung.
"Mountain Climbing" contains a guitar solo, that will remind you of an early Jimmy Page. One of the best tracks to my opinion is "Distant Lonesome Train", that must be played in full-stereo (and volume!!) to experience Joe's brilliant guitar solo.
Final track "What I've Known For A Very Long Time" is a fantastic, soufull and bluesy ballad, containing beautiful organ and guitar solo's.
The special edition of the album contains a booklet in which Joe tells us the stories of all his guitars, with beautiful pictures to accompany his story.
Joe is only playing at North Sea Jazz in the Netherlands this year, at least up till now… Let's hope he reconsiders and does a few gigs later on this year
Hans Nuijten/15.05.2016
Date

May 15, 2016

Tags

Album