David Bowie exhibition Groningen/Netherlands
Me and my wife visited the magnificent exhibition: David Bowie is at the Groninger Museum in Groningen The exhibition was seen at first in London in the Victoria & Albert museum, from which it began travelling around the world, to finally finish in the Netherlands. The Victoria & Albert Museum was given unprecedented access to the David Bowie Archive to curate the first international retrospective of the extraordinary career of David Bowie – one of the most pioneering and influential performers of modern times. David Bowie is explored the creative processes of Bowie as a musical innovator and cultural icon, tracing his shifting style and sustained reinvention across five decades.
The V&A's Theatre and Performance curators, Victoria Broackes and Geoffrey Marsh selected more than 300 objects that were brought together for the very first time. They include handwritten lyrics, original costumes, fashion, photography, film, music videos, set designs, Bowie's own instruments and album artwork.
The exhibition explored the broad range of Bowie's collaborations with artists and designers in the fields of fashion, sound, graphics, theatre, art and film. On display were more than 300 objects including Ziggy Stardust bodysuits (1972) designed by Freddie Burretti, photography by Brian Duffy; album sleeve artwork by Guy Peellaert and Edward Bell; visual excerpts from films and live performances including The Man Who Fell to Earth, music videos such as Boys Keep Swinging and set designs created for the Diamond Dogs tour (1974). Alongside these were more personal items such as never-before-seen storyboards, handwritten set lists and lyrics as well as some of Bowie's own sketches, musical scores and diary entries, revealing the evolution of his creative ideas.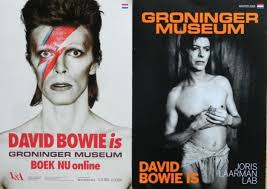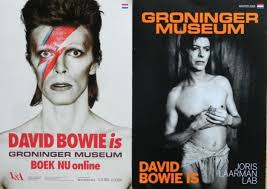 'David Bowie is' opened at the Groningen Museum for an extraordinary public and critical reception. To get an understanding of how David Bowie has become among the most influential pop stars of his generation, we sought insights from musician Thurston Moore, artist Jeremy Deller, music journalist Simon Price, dedicated Bowie fan Ziggy Jacobs and artist Daphne Guinness. Between them they trace Bowie's career from the 1960s, and take a close look at his approaches to the creation of music, image and performance.and memories about Bowie which created an image of the cover of the Aladdin Sane album.
If you want to visit the exhibition: it closes at March 13, 2016.
I will add 5 of my favourite David Bowie Tracks:
by Hans Nuijten
Date

January 10, 2016

Tags

Events